Basic Info
Model No.: 0.6/1kv-20/35kv
Product Description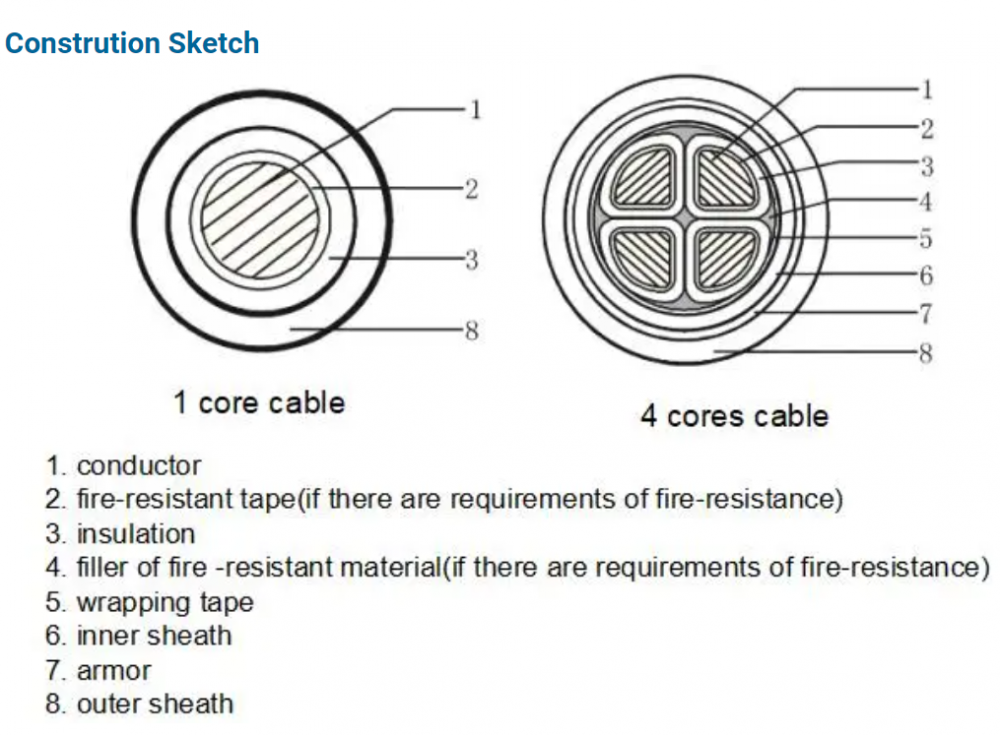 Characteristics & Applications
XLPE insulated Power Cable has the advantages of not only high mechanical strength, good ambient stress resistance, good electrical properties and anti-chemical corrosion, but also simple construction, light weight and convenient to use. It applies to electrical power trensmission and distribution lines with A.C. rated voltage U0/U up to and including 0.6/1kV.
The main feature of the flame retardant XLPE power cable is hard to get fire or that the continous burning of cables is vert limited when it is on fire. It applies to the places with many cable is laid tightly together such as power-generated station, subway, tunnel, hight-storey building, large-sized factory and mines, oil field and coal mine.
Standards
The products can be produced in accordance with GB, IEC, BS, and other standards.
Basic Information
Model No: YJV YJLV VV VLV VY VLY VV22 VV23 VV33 etc.
Material Shape: Round Wire
Range of Application: Power Grid and All Industry
Certificate: ISO9001,ISO14001, CCC, CE
Specification: 0.5mm2 - 630mm2
Supply Record: America, Australia, African countries, Arabian countries, Asian countries etc.
Origin: China
Application: Power Grid, Transmission Line, Construction, Railway Transportation, Chemical Plant, Telecom , Oil Industry, Equipment Manufacture, Instrument Industry etc..
Voltage: 35KV, 10KV, 0.6/1KV, 450/750V, 300/500V
Current: AC & DC
Insulation Material: XLPE, PVC etc.
Sheath Material: XLPE, PVC etc.
Material Shape: Round wire
Application
1. the rated voltage U0/U is from 0.6/1kV to 26/35kV.
2. Maximum Conductor temperature under normal operation is 90ºC.
3. Maximum conductor temperature under short circuit (Max duration is not more than 5s) is not more than 250ºC.
4. Minimum installation ambient temperature is not less than 0ºC.
Installation bending radius are not less than the following specified values:
Single core non-armored cable: 20D
Single core armored cable: 15D
3 cores non-armored cable: 15D
3 cores armored cable: 12D
(Note: D-outer diameter of cable)
Voltagela class 26/35kV
Type: YJV YJLV ZC-YJV ZC-YJLV
nominal cross-section




mm

insulation




thickness mm

O.D.




mm

capacitance




μF/km

approx.




ampacity (air)




A

approx.




ampacity buried




A

reference weight




of finished cable




kg/km

Cu

Al

Cu

Al

Cu

Al

50

10.5

38.8

0.12

245

190

225

175

1745

1435

70

10.5

40.7

0.13

305

235

275

215

2025

1591

95

10.5

42.3

0.15

370

285

330

255

2330

1742

120

10.5

43.9

0.16

425

330

375

290

2647

1903

150

10.5

45.5

0.17

485

375

420

325

2998

2068

185

10.5

47.3

0.18

555

430

475

370

3414

2218

240

10.5

49.7

0.19

650

505

555

430

4044

2556

300

10.5

51.9

0.21

745

580

630

490

4696

2836

400

10.5

55.3

0.23

870

680

720

565

5801

3320

500

10.5

60.3

0.25

1000

790

825

645

7132

4032

630

10.5

64.5

0.28

1160

920

940

740

8515

4609
Voltagela class 12/20kV
Type: YJV22 YJLV22 ZC-YJV22 ZC-YJLV22
nominal cross-section




mm

insulation




thickness mm

O.D.




mm

capacitance




μF/km

approx.




ampacity (air)




A

approx.




ampacity buried




A

reference weight of finished cable




kg/km

Cu

Al

Cu

Al

Cu

Al

3X25

5.5

55.5

0.22

129

100

155

120

3833

3476

3X25

5.5

57.9

0.25

156

120

185

144

4313

3702

3X50

5.5

61.1

0.26

184

143

218

169

5281

4311

3X70

5.5

64.9

0.28

229

177

267

207

5878

4399

3X95

5.5

68.8

0.30

275

213

319

247

6867

4770

3X120

5.5

72.2

0.32

316

246

363

282

7906

5192

3X150

5.5

75.8

0.33

363

281

412

319

9045

5554

3X185

5.5

79.9

0.35

408

317

460

357

10435

6070

3X240

5.5

86.4

0.38

178

372

531

413

13299

7532

3X300

5.5

91.6

0.40

546

425

598

466

15463

8169

3X400

5.5

101.8

0.44

638

501

686

539

19505

9662
BEIJING FINECAST INTERNATIONAL CORPORATION
Company Name: BEIJING FINECAST INTERNATIONAL CORPORATION
Representative: Jason Zhao
Product/Service: Water Pipeline and Steel Products , Construction Material and Equipment , Hardware Tools , Personal Protecitve Equipments , Furniture and Decorative Material , Fire Fighting Equipments and Fire Alarm System
Capital (Million US $): 10,000,000RMB
Year Established: 2016
Contact Person: Ms. Cherry Che
Tel: 86-010-53328977